Introduction to the Great Thinkers: Philosophy 302.01
Dr. Peter Gratton, Dept. of History and Political Science
M/W: 9:30AM – 10:45AM
Office Hours: M/W: 10:50-12:30; 1:45-3:20, or by appointment (virtual hours by appointment as well)  Cell phone (use only in an emergency and best by text): 504-478-5982
e-mail: peter.gratton@selu.edu
[We may slow down or speed up based upon the class need. I will notify you well in advance of changes and they will be placed on the course web site.]
Course Objectives
The purpose of this course, as seen through our readings below, is to study many of the major movements in intellectual history.
Required Books for Purchase: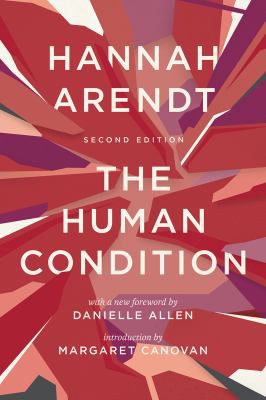 Human Condition
Edition: 2nd
ISBN: 9780226586601
Author Arendt
Publisher: University of Chicago Press
Formats: PAPERBACK, BryteWave Format
Copyright Year: 2018
---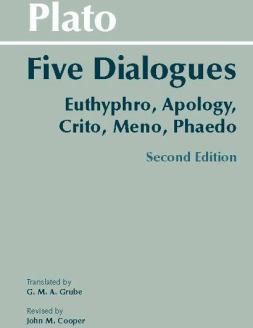 Five Dialogues
Edition: 2nd
ISBN: 9780872206335
Author Plato
Publisher: Hackett Publishing Company, Incorporated
Formats: PAPERBACK, BryteWave Format
Copyright Year: 2002
---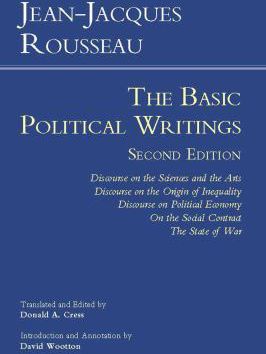 Edition: 2nd
ISBN: 9781603846738
Author Rousseau
Publisher: Hackett Publishing Company, Incorporated
Formats: PAPERBACK, BryteWave Format
Copyright Year: 2011
Requirements
Reading: You must read the assigned texts prior to class and it is highly recommended that you view any student resources prior to coming to class. Given the breadth of any survey course, but especially one in philosophy, it will be important for you to keep up with the readings and bring to class any questions you have about the text. Use a dictionary to look up words that you don't understand, and come to class with any questions you have. This is a work-intensive class, as you will see below. You should do your best to keep up with the readings and writing assignments from the beginning, since it will be difficult, if not impossible, to catch up later on.
Class Participation: You will be expected to attend each class having read the relevant materials and able to comment upon them to other members of the class. Your participation grade will be assessed with the following in mind: (1) attendance (no more than three absences during the semester without a valid reason) and (2) level and quality of participation. If you suffer from any disabilities, such as a social phobia and/or a physical or mental condition, which you believe may impede your progress and participation in the course, either with regard to the class itself or quizzes and exams, please let me know as soon as possible. I have worked with students with special circumstances before and I will be glad to do so again to make this classroom as inclusive as possible. (3) IN-CLASS PRESENTATION: Each student must present a two-page single-spaced response to one of the readings (excluding the textbook) below. You can present an overview, a critical analysis, a comparison to another thinker—the two pages are up to you. You are guaranteed your points as long as you show that you have taken your time with the material.
Evaluation:        
Quizzes and final examination:  80%
Class participation: 20% (including in-class presentation)
Class Cancellations: If class is cancelled for any reason, the cancellation will be posted on the moodle site for the course, or provided via email. In the event of a natural event causing the cancellation of school, students should continue with assignments as provided in the schedule.
Intellectual Honesty: Students are reminded of the University policy on intellectual honesty, especially that part which pertains to plagiarism and self-plagiarism. Plagiarism and self-plagiarism are forms of academic fraud; complaints or allegations of such are subject to the adjudication of the proper university committee: your first task in the class will be to go on the university website to understand what is meant by these terms. Cheating includes but is not limited to allowing another student to copy from your work, presenting someone else's work as your own including through failure to credit the source of ideas, consulting electronic devices such as mobile phones, and/or interacting with others while a test is ongoing.
Official communication: Standard Southeastern policy is that you exclusively use your Southeastern e-mail account to communicate information about your curriculum, classes, assignments, and other important information.  You can access your e-mail account from Webmail on Southeastern's home page.  I will not respond to student e-mail from any other e-mail addresses.
Schedule of Assignments:
January 22
Introduction to the course, begin reading Plato's Apology.
January 27

Finish Apology in Plato's Five Dialogues.

Multi-media assigned:

BBC In Our Times: Socrates

January 29

Plato, Phaedo, 93-110

Recommended:

February 3
Plato, Phaedo, 111-130, in Plato's Five Dialogues.
February 5
Phaedo, 131-end.
February 10

Aristotle, Politics, I, chapters 1-5
Handout by professor. (I will print out and bring to class)

Recommended: BBC, In These Times, "Aristotle's Politics"

Internet Encyclopedia of Philosophy, "Aristotle: Politics."

Stanford Encyclopedia of Philosophy, "Aristotle's Political Theory."

Quiz: Plato's Phaedo (10 pts., take home): In the Phaedo, Socrates gives three arguments for the immortality of the soul. Quickly provide them. Then tell the reader why Socrates gives these arguments. What is the relation of the soul to the body? Begin with a clear thesis statement about the relation of the soul and the body in the Phaedo, then go through the three arguments, noting any problems you see with them. Then end by describing how this relates to the type of philosophy Socrates does, that is, why is philosophy a preparation for dying?

February 12

Aristotle, Politics, I, chapters 6-end.

February 17

Aristotle, Politics, III, 1-4;  Book IV 1-4.
Aristotle, Politics, VII, 1-3, 8-10.

February 19

Rousseau, Discourse on the Arts and Sciences
Professor's Handout on the Discourse on the Arts and Sciences.
Quiz: Aristotle's Politics. (5 pts., in class)

February 24-26
Mardi Gras
March 2

Read Rousseau, Second Discourse on the Origins of Inequality (part I)
Professor's Reading Notes for the Second Discourse. (Distributed in class)

Recommended:

Professor's Youtube Video for the Second Discourse (with biography).
Partially Examined Life, "Rousseau's Discourse on Inequality" (Youtube).
"Jean-Jacques Rousseau," Internet Encyclopedia of Philosophy.

Handouts: Andrea C. and Shelby D.

March 4

Rousseau, Second Discourse on the Origins of Inequality (part II)

Handouts: Baylen W. and Syteria C.

March 9

Rousseau, Social Contract, Books I-II.
"The Social Contract," In our Times. (BBC podcast)

Handouts: Hannah S. and Even E.

March 11

Rousseau, Social Contract, Books III-End.
The 1789 French "Declaration of Rights of Man and Citizen" at http://www.yale.edu/lawweb/avalon/rightsof.htm.

Handouts:

March 16
Transition to online teaching.
March 18

Marx, Manifesto of the Communist Party

Handouts: Lawson Q. and Patrick V.

 Recommended: BBC, In our Times, Marx

Manifesto lecture by professor

Take-home Essay Quiz Due (15 points):

3.5-to-4 pages, double-spaced, Times New Roman font, no cover sheet, no bibliography page if you don't use outside sources.

Rousseau is thought of both as the great thinker of freedom and of an early form of totalitarianism. The reason is his thinking of the general will: while he thought of it as a notion of wanting the common good, the problem is we have seen what forms of government have come about because everyone was supposed to want the same thing and those who didn't were executed or imprisoned. First describe what Rousseau means by the general will. Why does he use this idea and how is this formed in a society ruled by a proper social contract? How is this different from private wills or interests, which rule in "aggregations"? What form of government should we "want" based on the general will. Finally describe what he means by a civic religion and why this also helps us to want the common good. (15 points)

March 23

Arendt, The Human Condition, Preface, Part I

Key Questions asked as we read HC:
1. What are the three aspects of The Human Condition?
2. What are the threats Arendt finds to The Human Condition?
3. What does Arendt mean by world alienation and therefore a world?
4. What does Arendt mean by earth alienation?
Resources for Arendt (you are assigned to listen to the first two):
1. My lecture is here, going over the work as a whole and its major theses, including her underread claims later in the book about "earth alienation." (based in many parts on an unedited version of my contribution to The Bloomsbury Companion to Arendt, due out next year and co-edited by me and Yasemin Sari.)
2. BBC In these Times, Hannah Arendt.
3. George Kateb, "Political Action: Its Nature and Advantages," The Cambridge Companion to Arendt, ed. Dana Villa (Cambridge: Cambridge University Press, 2001).
4. Karin Fry, "Natality," in Hannah Arendt: Key Terms, ed. Patrick Hayden (London: Bloomsbury, 2012).
5. Paul Voice, "Labor, Work, Action," in Hannah Arendt: Key Concepts.
6. Siobhan Kattago, "Hannah Arendt on the World," in Hannah Arendt: Key Concepts.

Handouts: Maddie S.

March 25

Hannah Arendt, The Human Condition, Part II

Handouts: Avery F. and Allie B.

March 30

Hannah Arendt, The Human Condition, Part V

Handouts: Logan D.

April 1

Arendt, The Human Condition, Part VI

Handouts: Neya S.

April 6

Arendt, "On Violence," sections I-II

Professor's Lecture on On Violence.
Maša Mrovlje, "Violence Illuminating Its Political Meaning and Limits," Bloomsbury Companion to Arendt (2020).

Handouts: William B. and Bethany M.

April 8

Arendt, "On Violence," section III

Quiz: What does Arendt mean by power? How is it different than violence and authority? Why is this distinction important? (5 pts., email to professor; 2 pages)

Handouts: Hannah O. and Akira C.

April 13-15
Spring Break
April 20

Sartre, Existentialism is a Humanism

Professor's Lecture on "Existentialism is a Humanism."

BBC, In our Time, Existentialism

Handouts: Ben B. and Aleeyah W.

April 22

Fanon, The Wretched of the Earth  (chapter I)

Professor's lecture on Wretched of the Earth, chapter 1.

John Russon, excellent discussion of Fanon on violence and decolonization.


Recommended: 
Tracey Nicholls, "Frantz Fanon," Internet Encyclopedia of Philosophy.

Handouts: Colton J. and Charles S.

April 27

Fanon, The Wretched of the Earth  (chapter I continued, conclusion)

Quiz: When is violence appropriate for Fanon? Why does he say it is a "creative" force? Be as clear and specific as possible. 5 pts. email answer to professor. 2 pages.

Handout: Michelle E.

April 29

Achille Mbembe, Necropolitics, introduction, chapter 1.

Professor's Lecture on intro, chapter 1, chapter 2, chapter 3, and conclusion.

Handouts: Claire T.

May 4

Achille Mbembe, Necropolitics, chapter 2.

Handouts: Wyatt H.

May 6

Achille Mbembe, Necropolitics, chapter 3, conclusion.

Handouts: Dwan V.

 
Final Examination (take-home) due to peter.gratton@selu.edu by MAY 11, 2020. 40%